Whether you're planning a build, or simply a bathroom renovation, one of the things you'll be considering is the finishes used in your  bathroom accessories. Since most homeowners choose to use a similar finish in all of their bathroom furnishings, it's an important aspect to decide on before you get started. To help with this, we thought we'd offer a two day guide to your options! And, as always, we welcome any questions in the comments box below–or simply give one of our design experts a call at 866-526-1843!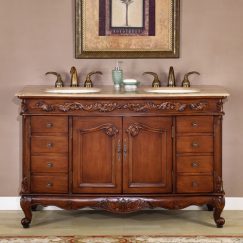 What are the Variations of Browns for Bathroom Cabinets?
Brown finish wood tones come in a variety of shades ranging from light to dark and all the shades in between. Used in modern and traditional, as well as single and double sink vanities, rich natural wood tones offer a distinguished look to any bathroom, regardless of the style. Countertop and hardware options are also endless here.
In the family of browns there are some distinctions to be aware of, however. If your preference lies in a lighter shade of wood, then something in the Oak variety would well suit you. Its light tone and beautifully apparent wood grain are great compliments to every bathroom.
A touch darker will find you in the Antique Brown arena. Similar to Antique White finish in that its finish is distressed to look aged, Antique Brown will appear lighter throughout the center of the piece and darker around the trim pieces. These are most often found in traditionally styled bathrooms, but can be used carefully to blend the modern and traditional.
The darkest of the natural woods can be found in Walnut. A Walnut finish offers rich and beautiful browns with wood grain highlights throughout. This choice will also adapt itself well to any style and can be found in lighter and darker varieties to match the pieces around it.
Even darker still is Espresso. Espresso wood tones are found most frequently in modern or contemporary pieces. Their finish is deep and dark, as the name would suggest. While Espresso is technically a dark brown, in certain lighting it can appear black. Since this finish is so dark, wood grains are not distinctly visible from a distance. In addition, since most Espresso bathroom vanities are more modern in design, you can expect a sleek and streamlined look.
These tones compliment both single and double vanities beautifully. The versatility of this finish choice also works well with most bathroom color choices. Keep in mind though, since the bath vanity is often the centerpiece of your bathroom, you may want to steer clear of dark walls, as the vanity will be lost against the background.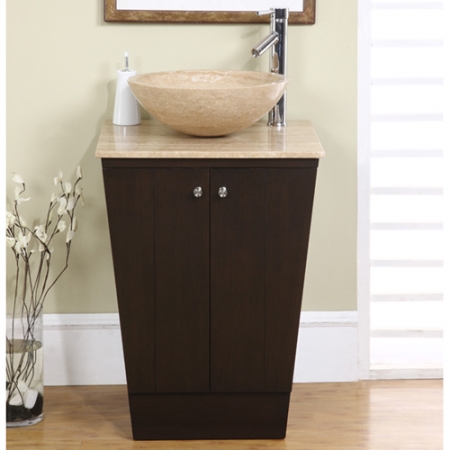 What are Cabinet Finishes with Red Undertones?
Cherry wood finishes are popular choices for those looking for an auburn tinted bathroom vanity. Their deep brown-red tones add an elegant touch to every bathroom they are featured in. These vanities mesh well in both traditional and modern styles and are found in many single and double sink varieties. When looking for wall colors that work well with Cherry, stay to a lighter shade that will allow the vanity to stand out against your wall and use darker accents to compliment the piece.
Next moving down the scale, you will find Mahogany. Mahogany is a great finish for those who are looking for red undertones. In most options, there are more red tones in a Mahogany vanity than a Cherry item. This finish also lends itself well to any style you favor, so you will have no trouble decorating around it.
Many people will look to these vanities when they are seeking a strictly red hue, as the name suggests something along those lines. Some Cherry finishes appear more brown to the eye. Care should be taken though, as those looking for reds may be better suited to Mahogany finish vanities. Wood grains apparent in this tone blend perfectly well with any countertop or hardware choices, so no trouble will be found there when choosing the finishing touches to add to your piece.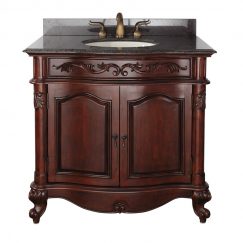 Wondering about hardware to match? Don't! You'll find that all of the hardware finishes look great with Espresso tones. The hardest part here is narrowing down the choices of the ones you like! Need more suggestions? Like our Facebook page for weekly tips, or jump onto our Pinterest page for instant inspiration!
---
My name is Julia Ritzenthaler, Founder and President of Unique Vanities, started in 2005. I started this business as an extension of our residential remodeling business, which focused on the design and build of custom cabinetry and architectural trim. I also worked as a financial advisor for 10 years at Ameriprise Financial, helping clients make sound money decisions, including budgeting for home improvement expenses. This expertise led me to start Unique Vanities, which offers a handpicked selection of high quality bathroom vanities, sinks, mirrors and more. You can find me most days sitting in Starbucks, my second office, or in my car driving my daughter across Dallas to gymnastics training.
---