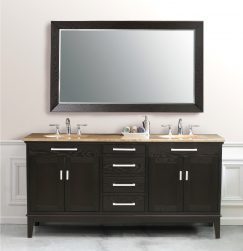 So you've got everything else mapped out for your bathroom remodel. Your bath vanity has arrived, the mirrors to match, toilet, accessories… everything is in order–except the tile. Bathroom tile is usually one of the later decisions to be made in a bathroom remodel. With the wide variety of tiles available, it's often easier to match the tile to rest of the bathroom than the other way around. So in today's post, we thought we'd highlight the choices you have when it comes to picking out your bathroom tile.
For the most part, bathroom tile is going to fall into one of 3 categories: cement, ceramic, or natural stone. All of these options vary in price and level of upkeep needed, so you'll want to consider your budget–and how much work you want to do to maintain it–before you make your decision. Generally speaking, cement and ceramic tiles are more inexpensive and, luckily enough, more customizable. If you are looking to involve a unique color theme in your bathroom, or would like a painted tile featured, or even a mosaic look–these types of tile are the way to go. Additionally, because their physical makeup is so dense,  these options are best used in showers, since water permeation here is an issue. (Not to say though that you absolutely can't use natural stone in the shower–you would just need to prepare yourself for quite a bit of regular cleaning and sealing.)
On that note, however, natural stone is certainly an option for use in the bathroom. It's unique striations guarantee that your surface will be like none other in the whole world. Options here vary from the classic marble, granite, limestone or the emerging favorites- travertine or quartz. As mentioned before, the cost of natural stone is significantly higher than its ceramic or cement rivals. On top of that, because natural stone is porous by nature, it requires regular maintenance to keep from staining and etching. Though this maintenance isn't generally expensive, it's not for the homeowner who wants to "set and forget."
Traditional San Juan Cement Tile from AventeTile
So what is our favorite? Well, that's certainly a tough question and NOT one that could be answered in a sweeping generality. We've seen clean, classic modern bathrooms done in subway tile alone that  look fantastic. Additionally, we've seen traditional bathrooms with marble or granite that make statements that speak volumes. And, in another corner of design, we've seen such funky and original tile designs featured like that from Avente Tile, that will continue to WOW guests for years to come.
What type of tile is in your bathroom right now? And what would you switch it to if you could? Leave us a comment in the box below!