Color Series: Adding Blue to Your Bathroom Design
Color is one of the most important elements of design. Researchers of color psychology have found that color preference is usually rooted in personal experiences and culture. That being said, certain colors do evoke similar biological reactions in most people. For example, exposure to red generally raises blood pressure and increases appetite. Chromatherapy (use of color to heal) was first used in ancient Egyptian and Chinese cultures — we still apply these ideas in design today in order to create pleasant spaces. According to ColorMatters.com, blue is the most common favorite color globally.
Blue is thought to be calming and reminds most people of the sea or the sky.
Darker blues such as navy can also create a dramatic effect in a space.
Methods of introducing blue into your bathroom include paint, tiles, fixtures and accessories.
Paint offers the least amount of commitment, but it doesn't lack charm.
This space uses paint to highlight the sculptural bathtub.
An accent wall in this bathroom helps to brighten the space.
Tile is a more permanent way to introduce blue into your bathroom. Tiles can be added as a backsplash, in the shower surround or even from floor to ceiling.
Blue sinks and countertops are available to those who want a more dramatic way to use blue in their bathroom.
Glass vessel sinks show the color beautifully.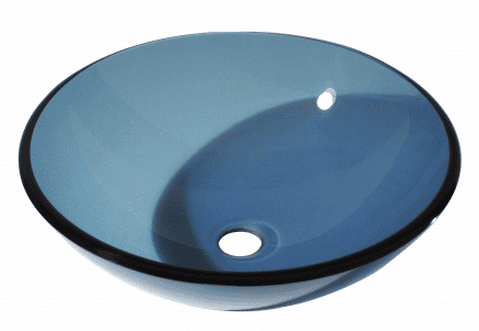 Accessories are a quick way to establish a pleasant ambience in any room, especially a bathroom. Artwork, flowers and towels are great items to use for such a purpose.
So whether you're remodeling or just refreshing your bathroom, use this guide to help create your own tranquil retreat.
Content provided by Julia Ritzenthaler