Choosing A Vessel Bathroom Sink: Types, Styles, Pros and Cons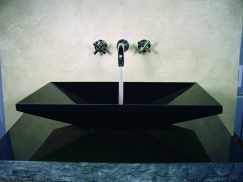 Vessel sinks are an essential accessory that helps to improve the aesthetic value of bathrooms. If you are planning to install some new unique vessel bathroom sinks or replace the existing ones, you will find that there are many different types and styles to choose from. The most common styles from which you can choose one include glass, granite, copper, stone, wood, terrazzo, concrete, soapstone, plastic, marble, ceramic, stainless steel, and enamel-over-cast iron or steel vessel bathroom sinks. All these different types of materials, which are used to create different designs of vessel bathroom sinks, have their own pros and cons.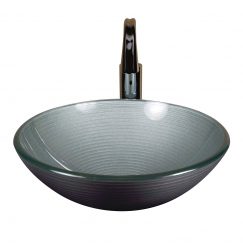 Glass sinks are the new and contemporary trend for vessel bathroom sinks. Beautiful glass vessel bathroom sinks have become a fashion symbol, and the choice style for wealthy homeowners. These sinks are so elegant yet highly functional. If you are looking forward to modernizing your home, you should go for these sinks. Additionally, with the variety of colors and patterns available, changing the entire theme of your bathroom decor is much simpler by changing out the glass vessel, rather than the entire vanity.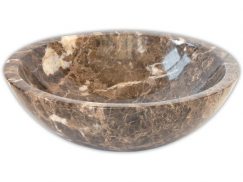 Stone sinks are the oldest style of vessel bathroom sinks. Stone-crafted sinks have been used for thousands of years. Some of the most popular stones for designing vessel bathroom sinks include granite, marble, onyx, soapstone and travertine. These kinds of sinks are great for a naturally-inspired modern home decor. Of all types of vessel bathroom sinks, they are the easiest to maintain. However, sinks made using quality, high-end stones such as marble are costly to build. Concrete, terrazzo and wood sinks are great alternatives that can be used to boost the aesthetic appeal of the bathroom. Wood furnishing is can be used to complement other materials such as stainless steel.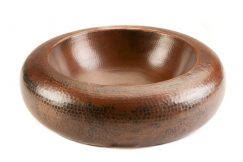 Metal sinks are another common vessel bathroom sinks style. The most popular metal sink styles are stainless steel, copper and enamel-over-cast iron. Stainless steel sinks are the most preferred style in commercial setting. This is because they are easy to clean, and cheaper to set up compared with the other styles. Stainless steel and copper sinks score highly in terms of usability and durability. Both of them are impact resistant, and cannot be damaged by very hot or cold objects.
Enamel-over-cast iron vessel bathroom sinks are heavy and durable. They come in a wide variety of designs featuring many different shapes and colors. Like steel and copper sinks, they cannot be damaged by very hot or cold items. However, their glass surface can break under sharp impact. Once it is breached, the cast iron set inside starts to corrode causing further damage. The surface normally gets dull when it is cleaned aggressively leading to more dirt accumulation. The enamel-over-steel sinks is similar, but more expensive. Ceramic vessel bathroom sinks have the same characteristics as enamel-over-cast iron sinks, but they cannot be damaged by corrosion, which is a big plus.
Plastic sinks are a very versatile vessel bathroom sinks style. They can be found in several different variations. The most common plastic sinks are the ones made using injection-molded thermoplastics. These sinks are very cheap. They are mostly used in laundry rooms. Apart from thermoplastics, there are sinks that are crafted using high-end acrylic as well as plastic materials used to make solid-surface countertops. The main disadvantage of plastic sinks is that they are prone to damage from hot or sharp objects.
Contributed by: Julia Ritzenthaler
Choosing A Vessel Bathroom Sink: Types, Styles, Pros and Cons

,