By Adria Saracino
South Africa has a rich culture that blends both modern-day ideas with age-old traditions. From the wild safari to metropolitan Durban, South African design ranges between both the modern and traditional. How do you strike a balance and apply it to your home? The answer is look for ways you can add a warm and inviting modern interpretation of South Africa's rich past. Here are three principles to keep in mind when infusing South African design into your home plus DIY ideas for making them a reality.
1. Mix patterns from different style periods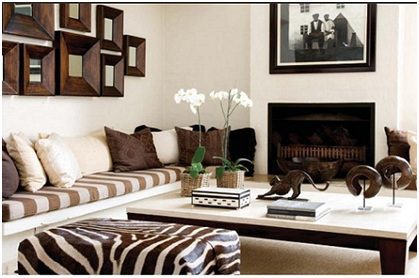 Don't be afraid to mix patterns from different style families. For example, choose a graphic animal print that evokes the safari and mix it with a contemporary striped fabric as seen above. The key is to keep the items in the same color family, or at least make sure one color is repeated throughout the space to ensure cohesiveness.
Home Improvement Project: If you find fabrics you love, consider upholstering yourself. There is no need to settle when you fall in love with a fabric just because it's not already transformed into a usable piece – do it yourself! Here is an in-depth tutorial from Mother Earth News on how to do this.
 2. Turn up the chic by turning down the volume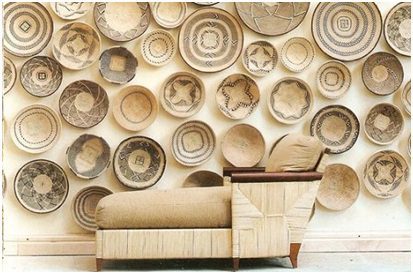 It's easy to get carried away with the rich colors of traditional tribal garb. However, it can quickly make a space look themed and overdone. Try sticking to neutrals to create a clean, serene, and welcoming space. Allow texture and patterns make a bold statement.
Home Improvement Project: If you are going to do a large statement using accessories as in the example above, make sure to plan before hanging. Consider laying out how you want it to look on the floor and then one by one marking their spot on the wall with an "X" using a pencil. Also, make sure to use the proper equipment for hanging. For lightweight baskets, your trusty hammer should do the trick. But for heavy items, consider power drills and reinforced brackets.
3. Don't be afraid to go there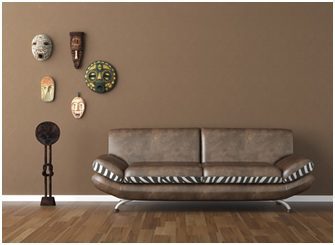 Sometimes you will fall in love with a very specific part of a culture. Even if it is "obvious," don't be afraid to go with your gut and add what you love to your home. For example, tribal masks are quintessentially African. If you like them, add it! It can make a great statement. The key is to use it in moderation and as accessories, which can easily be switched out if you fall in love with another design style.
Home Improvement Project: Like the animal-print detail on the couch above? Even if you don't have the know-how to add a strip of fabric to an existing cushion, it is easy to add African-inspired flare to an existing couch. Check to see if the manufacturer has alternative version that you can purchase cushions from. If there are designs that go with your motif, simply switch them out. If alternative options aren't available, reupholstering cushions or adding pillows and shams is another way to bring a couch to life. You could even add new feet that go better with the theme, going as far as lion-claw feet! You can even do this to spice up your bathroom vanities with granite tops!
Adria Saracino is a marketer, blogger, and design lover. She writes for South African Hotels, an online tourism portal that helps travelers find everything South African – from Durban accommodations to Zimbabwe safari tours.
Photo Credit: interior design with tribal masks, modern African design