The kitchen is usually considered the heart of the home. This is where all the special holiday dinners are made, the birthday cakes are baked and the morning coffee for that quick 'pick me up' is brewed. For this reason, remodeling the kitchen is something that many homeowners want to do. Sometimes, though, it is hard to know where to begin and what products to use. There is no need to fret; let's look at some of the more innovative products as well as the classic, traditional options available for your kitchen remodel. And keep in mind, many people like to coordinate all the stone in their house. So if you're planning on new bathroom vanities and sinks, you may want to match to this!
What are Choices for Kitchen Countertops?
1. Solid Surface
A solid surface is nice because scratches can actually removed by sanding the countertop. These countertops are made to order with the kitchen's specifications.
Pros-There are numerous designs and colors to choose from. They are stain resistant and seamless.
Cons-Stains and hot pans can harm the surface and it is moderately expensive.
2. Engineered Stone
This stone is available in a broad range of colors. It is composed mostly of quartz particles (93%). Its nonporous surface will resist scratching and is easy to maintain. No annual sealing is necessary for the engineered stone.
Pros-It resists stains and is easy to maintain.
Cons-It is expensive.
3. Butcher Block or Wood
A wood countertop offers a warm look to the kitchen. There are various finishes and colors available. The hardwoods (oak and maple) are most often used for countertops.
Pros-The wood is smooth and easy to clean. It can be sanded down and then resealed.
Cons-Over time stains and water can damage the wood. The scratches need to be sealed or oiled.
4. Ceramic Tile
Ceramic tile is resilient and easy to maintain and less expensive than the stone countertops. It is generally a good choice for the typical home because it is installed one piece at a time. This makes it more 'user friendly' for the homeowner who is interested in installing the countertops himself.
Pros-It is not affected by heat, offers a wide selection of designs options and pricing. It is very easy to wipe down.
Cons-The surface of the counter is uneven and the tiles can crack or chip. The grout lines will become stained over time and tiles that are custom designed are expensive.
5. Laminates
Laminate countertops are made of synthetics that are coated with plastic. Its surface is smooth, making it easy to clean. These countertops are custom cut to fit and then the ends are finished.
Pros-Laminates are available in multitudes of colors, durable, easy to maintain and inexpensive.
Cons-It can scratch and chip and this damage is generally unable to be repaired. The seams on laminates are visible.
What are Popular Choices for Kitchen Flooring?
1. Ceramic Tile
When it comes to flooring, ceramic tile will hold up better than almost any other option concerning water problems.
Pros-Regular traffic will not affect ceramic tile. It can add value to your home because it is usually considered a positive to homebuyers. It is easy to maintain on a daily basis.
Cons-The tiles could crack or break if something heavy is dropped on it. The tile is also susceptible to scratches if something is dragged across it. You must have a good sealant put on the grout during installation.
2. Laminate
Laminate flooring is a very popular option for many homeowners because it is not very expensive. It also offers a large variety of choices that mimic other more expensive flooring options.
Pros-It is less expensive than most of the other choices available. Laminate offers an enormous variety of design options.
Cons- Can tear or dent as it ages in areas of constant use (under the refrigerator and table). Water is a problem for laminate flooring.
3. Engineered Hardwood
This material is a favorite flooring substitute for the solid wood flooring. This is nice for those who like the look of wood but cannot afford it. The engineered hardwood flooring is only slightly more expensive than the laminate flooring.
Pros- The look of wood without the price tag. The engineered wood is more pliable than solid wood, allowing it to expand and contract with varying temperatures.
Cons- It does require some maintenance. Spills do have the ability to damage the wood.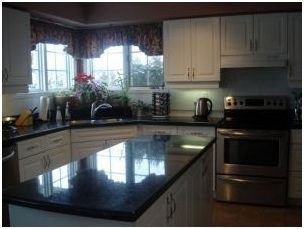 ---
My name is Julia Ritzenthaler, Founder and President of Unique Vanities, started in 2005. I started this business as an extension of our residential remodeling business, which focused on the design and build of custom cabinetry and architectural trim. I also worked as a financial advisor for 10 years at Ameriprise Financial, helping clients make sound money decisions, including budgeting for home improvement expenses. This expertise led me to start Unique Vanities, which offers a handpicked selection of high quality bathroom vanities, sinks, mirrors and more. You can find me most days sitting in Starbucks, my second office, or in my car driving my daughter across Dallas to gymnastics training.
---