Wine bottles come in many different shapes and colors; when brought together with some simple lighting, you can create a unique lighting fixture for your home (and save hundreds of dollars while you're at it). Whether you're a casual drinker or a wine connoisseur and member of a monthly wine club, there are ways to turn one or many bottles into a unique light fixture.
One of the simplest ways to get started is to purchase an all-in-one kit which lets you mount a light bulb to the top of an empty wine bottle. Simply add a shade, and you're done!
Or, you can create a light-filled wine bottle in just a few easy steps: all you need is a single bottle, some tape, a drill, and some Christmas lights. First, soak the bottle and remove the label (or, if you'd like, you can leave the label on). Next, to help when drilling, add a piece of masking tape to the bottle where you're going to drill the hole. Now, drill through the tape and through the wine bottle. Don't push on the bottle – let the drill do the work. Start at one end (using a set of lights that are not end-to-end works best) and feed the lights through the hole.
These would look great standing alone or in a set on a mantle. Try using colored bottles with white lights, or multi-colored lights in a clearer bottle.
When you're ready to step up your wine bottle lighting project, you can make your own chandelier just like Brandon and Caitlin did over at That House on The Corner. They drilled holes through a stool top, which the necks of the wine bottles were inserted through, using rotor clips to hold the bottles in place. Then, a simple light kit was used to provide the actual light (in the center of the chandelier). When turned on, the light reflected through the wine bottles, creating a unique chandelier, and a wonderful conversation piece.
With varying glass colors and bottle shapes, wine bottles are excellent resources when tackling a DIY lighting fixture project.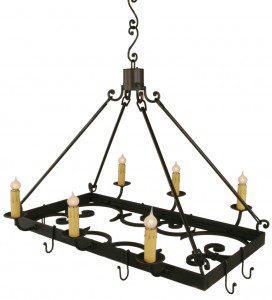 About the author: Eric Nagel is a casual wine drinker, who recently discovered the joys of joining a wine club. Although he prefers Pinot Noirs, he believes a good wine is comprised not only of what's in the bottle, but also who you're with when you open the bottle.
Content Provided By: Julia Ritzenthaler