Whether they're left natural or painted a uniform color, antler chandeliers always make a statement. They come in various shapes and sizes, from two or three antlers entwined in a simple chandelier to large, elaborate, multi-tiered chandeliers. You can purchase chandeliers made from naturally shed antlers or fashioned from faux antlers made of acrylic or wood. If you're a hunter, you can have the antlers of a season's worth of kills woven into a custom chandelier to remember your hunts.
Whether you're a hunter or not – or even if you don't approve of hunting – you can appreciate the beautiful, organic shapes that intertwining deer antlers can make. When you add light to the entangled antlers, the effect can be entrancing, with long shadows falling over the walls like vines and branches.
Antler chandeliers are seeing a lot of popularity right now, but you should consider a few things before you purchase one for your home.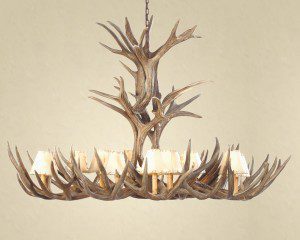 Where Can You Hang an Antler Chandelier?
Are you looking for additional or replacement lighting in your living room or foyer? Will this be a dining room fixture or hang in your bathroom? Antler décor can add ambience to almost any room, but you must consider the other décor.
People who install antler chandeliers in their dining rooms often choose painted models in white or black. The monochrome paint job gives the chandelier an upscale and modern look. Unless your home's style is very rustic, and you want to build a hunting cabin vibe, painted antler décor is probably the way to go.
A small, white antler chandelier can make a beautiful central ambience light for your bathroom. If your ceiling is high enough and your master bathroom is spacious, a chandelier won't overwhelm the space, and a small antler chandelier can throw some beautiful shadows across the walls, creating a relaxing atmosphere for your morning shower.
What Size Chandelier Works With Your Space?
In a high-ceilinged foyer, a large, multi-tiered antler chandelier can cast warm light and create a unique style for the entrance to your home. They have an organic appeal you won't get from any other chandelier. Before you purchase one, you'll have to decide what size chandelier you'll want for your space.
If you're hanging it over your dining room table, a smaller chandelier will probably be considered more tasteful unless your dining room has 20-foot ceilings and seats 50 people. All joking aside, a simple small to medium sized chandelier will be more stylish and fit better in a smaller setting, like the bathroom or dining room.
If you have a natural motif in your home, small antler lamps set in wall sconces can make interesting additions to hallways and foyers or next to the mirror in the bathroom. Larger, more elaborately designed chandeliers look better in larger spaces with higher ceilings.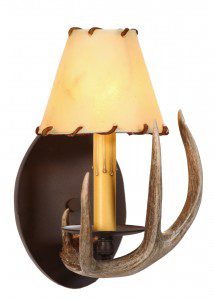 Choosing Between Real and Faux Chandeliers
Some companies manufacturing antler décor pride themselves on using naturally shed antlers, which are both real and cruelty-free. Some manufacturers use antlers from deer killed during hunting season in their area.
For the most part, real antler chandeliers are more expensive than chandeliers that use faux antlers. Synthetic antlers can be manufactured anytime, and there is virtually no limit on how many can be made. Real, natural antlers are limited by the size of the deer population each year.
If you're remodeling on a budget, faux antler chandeliers are the way to go. Simple supply and demand economics drive natural antlers' prices higher than faux antlers.
Also, if you like the look of antlers but are uncomfortable with hunting and killing animals, you'll want to search out a company that only makes their chandeliers from naturally shed antlers. If you aren't sure about how they source their antlers, you might want to stick with a chandelier made with synthetic antlers.
How Much Lighting Do You Need?
Many antler chandeliers have small bulbs that give off warm, ambient light. Which chandelier you choose should depend on how much light you need in the room.
However, if you love a chandelier that doesn't give as much light as you would like, you can supplement it with recessed ceiling lights. This does require some re-wiring, so it's not recommended for light remodeling jobs or if your goal is only to replace a current chandelier without any re-wiring work.
Installation Considerations
If you don't have a chandelier in a place where you want to install the antler chandelier, you may need to do some re-wiring. If any part of the wiring or installation process feels overwhelming or uncomfortable, don't hesitate to call lighting professionals to do it for you.
Online Shopping Considerations
If you've found an online source for your antler chandelier, remember that you must pay for shipping and handling. Make sure that the shipping charges – especially on heavy chandeliers – aren't too high to make it worthwhile to buy one. You should also check on the return policy and ensure you can return your chandelier if you have any problems.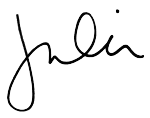 ---
My name is Julia Ritzenthaler, Founder and President of Unique Vanities, started in 2005. I started this business as an extension of our residential remodeling business, which focused on the design and build of custom cabinetry and architectural trim. I also worked as a financial advisor for 10 years at Ameriprise Financial, helping clients make sound money decisions, including budgeting for home improvement expenses. This expertise led me to start Unique Vanities, which offers a handpicked selection of high quality bathroom vanities, sinks, mirrors and more. You can find me most days sitting in Starbucks, my second office, or in my car driving my daughter across Dallas to gymnastics training.
---