What is the Best Way to Connect New Sink Drains to Old Pipes?
Posted on April 11, 2011 by All Things Bathroom Expert in Ask the Contractor

Most new bath vanity sink drains are 1-1/4" brass and can be connected to either PVC or Chrome p-traps of the same size all of which can be purchased at the local hardware or home improvement store. This is the easy part because all of the fittings are new and made to connect to each other.  The pipe coming out of the wall in your home may be copper, brass, chrome, or PVC and may even be 1-1/2".  In newer homes you will have a fitting with a compression nut on it called a trap adapter where the p-trap pipe will slip inside and the nut is tightened to make a seal.  If you have a straight piece of pipe sticking out of the wall that will not accept a standard trap adapter then you can use a no-hub coupling which is a rubber fitting with 2 hose clamps on it and can be bought to convert just about any 2 sizes of pipe.  It is best to install these close to the wall and make sure you don't over tighten the clamps.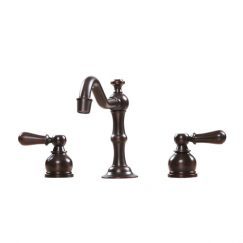 GD Star Rating
loading...
GD Star Rating
loading...