Incorporating Retaining Walls into the Landscaping Design
Posted on

December 3, 2011
In the landscaping and home improvement industry retaining walls made out of concrete blocks are used to hold back soil, dirt and debris and prevent it from causing a landslide. While these types of walls are essential to preventing major structural and landscaping damage, they do not always blend into the surrounding landscape. Luckily, with careful thought and consideration a retaining wall can be incorporated into the landscaping design and made to blend into the surrounding environment and not stick out like a sore thumb.
Why Retaining Walls Need to Be Built
A retaining wall is necessary when the surrounding land is on an incline and virtually unusable. The wall is built to even out the vertical incline and make land useable that would have otherwise been useless to the home or property owner. Once the land is retained it can be used for gardening or decorative purposes without having to worry about the structural integrity of the land.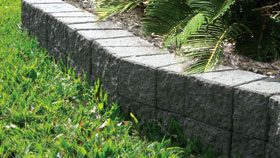 A retaining wall might be recommended in cases where the soil is constantly shifting and changing. Constantly shifting land is one of the major contributors to landslides. A solidly built wall can provide a level of stability to the surrounding land and prevent minor landslides from one yard to the next from occurring.
Working a Retaining Wall into the Landscaping Design with Plants and Concrete Blocks
Although retaining walls are functional in design, they can lack the visual appeal necessary to create a stunning landscaping design. Putting careful thought and consideration into what type of materials are used to create a retaining wall can help take that visually unappealing wall and turn it into a decorative element.
Concrete blocks, wood, steel, and stone can all be used to build a retaining wall. Before selecting one of these elements to build a retaining wall it is a good idea to consider which ones will blend in with the surrounding landscaping décor. For example, concrete blocks can create the sleek, straight lines necessary for a modern landscaping design, while wood or timber will create a more earthly feel.
Placing gardens and plants in front of the retaining wall is another great way to incorporate it into the landscaping design. When retaining walls are left out with nothing covering them they can often look out of place. Gardens and plants in front of the retaining wall can shield the retaining wall and make it look as if the wall was built into the design and not as an added accessory. Just remember if you do plant plants and gardens in front of the wall to make sure the roots of the plants that are chosen won't interfere with the structural integrity of the retaining wall.
UniqueVanities.com was proud to feature Apex Masonry as today's guest blogger. They ensure quality products and services by carefully choosing the materials such as concrete blocks the wall is made out of, and what is placed in front of the wall, a retaining wall can easily be incorporated into the surrounding landscaping design.