How to Make Your Children's Bedroom a Haven for Theme
Posted on

February 7, 2012
Decorating your kid's bedroom is a fun filled experience. It is a great way to let your creativity flow. However, many parents tend to go over-board in the excitement of letting their kids have their dream room. You need to keep in mind that children grow really fast and as they grow, their likes and dislikes tend to change just as quickly. Don't go for latest fads that may end up looking just silly in a year or two. Do make sure that your child loves the end result of all your efforts. The task of aligning your kid's preferences with your budget can be quite challenging. A few simple tips can help you overcome this problem and make this a fun project for both you and your child.
Let your kids express themselves
It is important to remember that this is not your bedroom. This is your child's bedroom and you need to decorate it according to his or her taste. Ask your kids for ideas, their likes and dislikes when planning to decorate their rooms. This is a great way to get your kids to express themselves. Don't impose your ideas on them. Your kid might have some favorite themes and colors in mind. Your daughter may want a princess theme and your son may want something sporty. Take this into account before ordering anything.
Color me bright
Colors have the ability to affect a person's personality. Be very careful when choosing the theme color for your kid's bedroom. Ask your child what his or her color is then work around with two or more colors that go well with it. Use brightly colored curtains in kid's bedroom. You can even paint morals on the walls if you feel like doing something more creative. Make sure that you choose a color which you won't need to change drastically as the child grows older. A girl who wants a princess themed bedroom now may hate it as a teenager. A great way to ensure this doesn't happen is to buy beddings and curtains according to your kid's preference and have the walls painted and furniture ordered according to what you think is appropriate.
Keep an eye on your budget
It is important that you don't go overboard when decorating your kid's bedroom. Keep an eye on your budget. You should buy good quality furniture though. Invest in a good quality bed, dresser, bookshelves and desk that the child does not outgrow. Go for neutral themes and colors as this will help you to keep your budget in check. Avoid over doing anything. You can still get your kid his or her dream bedroom without having to spend a fortune.
Chris is an interior designer with over 5 years' experience in French provincial furnishing. Chris specializes in French provincial beds.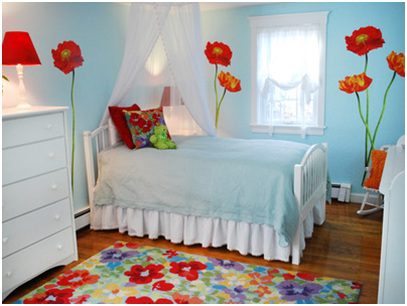 To really make your home kid friendly, try customizing your 72 inch bath vanity with kids faucets and hardware! These vanities are perfect for jack and jill bathrooms!