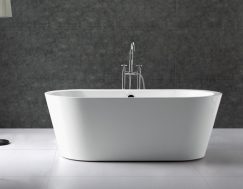 Winter is usually the time of year where everyone heads inside, closes up the doors and windows, and forgets about the yard until Spring. But, that doesn't have to be the case. There are many landscaping and home improvement projects you can hire or do yourself that will enable you to enjoy your yard year round. Below are some tips on how to make your yard awesome regardless what the season is.
Get a Greenhouse
If you're going to start a greenhouse, make sure you don't purchase one that is too big to handle. However, having a greenhouse allows you to use your yard for gardening year round, provided you purchase the right kind. Greenhouse kits are not the best for winter gardening, but if your budget allows a permanent structure, a greenhouse can give you the ability to plant petunias and tropical flowers in the dead of winter.
Hot Tub
Is there anything better to take away the chill of winter like a nice, steamy hot tub? Probably not. By installing a hot tub, you can enjoy your yard year-round, regardless of the weather. Snow can't touch the warmth of a hot tub, and rain just adds to the ambiance, so get out some candles and go outside.
Enclosed Patio
Want to enjoy your patio year round? That's not a problem at all. There are many contractors who are willing and able to enclose your patio, so it's more like a built-on room than a chilly outdoor slab of concrete. Not only will you enjoy an expanded living space, but you can also enjoy your patio on a year-round basis.
Fire Pit
Too cold to go outside? Not if you have a fire pit. Hire a landscaping contractor to create a beautiful stone seating area with a bench, or stools, that are seated around a fire pit. You might need a jacket still, but you'll still be able to enjoy the colder months outdoors.
Outdoor Kitchen With Heaters
Who says cooking an only be done inside? Landscape architects can easily design and build you a beautiful outdoor kitchen so you can barbecue, cook, and prepare hot cocoa year round outside. Add standing gas heaters around the eating area to create a perfectly warm gathering place you can enjoy even in the cold. Consider having the area covered slightly if you want to skip the gas heaters, as a covered outdoor kitchen is can also provide you with added warmth and protection from the elements.
There's no reason to lose use of one of your home's best assets for a large portion of the year.  With just a few changes, you can enjoy your yard in different ways no matter what the season.
Eowyn Applegates is a proud resident of Fairfax, VA, where she lives with her Yorkie, Theseus.  She enjoys cooking, reading, and hiking in her spare time. She writes for bullfrogspas.com.  As a University of Virginia graduate, she bleeds orange and blue.  Her ambition is to travel around the world and blog about the lives of the people she meets.