Wall sconces were once consider the lighting for hallways and stairways; but with the selection and styles now available online, the possibilities are endless. Sconces make for fabulous accent lighting in just about any room in the home. Styles available include wrought iron wall candle, multi-light sconces, art glass shaded, and much more.
Sconce lighting is great for generating a dash of either direct or indirect light. This is good for a couple of different things, direct lighting is nice for a reading nook in a living room or bedroom and indirect lighting can add the illusion that an area is bigger than it is. Because sconces are not the main source of light in most cases and because they are typically positioned near eye level, keep the bulb wattage low.
The rule of thumb is to install sconces 72 to 78 inches high on the wall. Any lower and they are too close to eye level. And if they are positioned higher than that, they will appear designed to illuminate the ceiling instead of the room itself. Accent lighting works well in groups, for an average to large room, place wall sconces about six feet apart from one another.
Wrought iron sconces are great for coordinating with larger light fixtures. For instance, if you already have a nice large iron chandelier in the dining room, consider adding four coordinating accent sconces. Look for sconces that have the same color scheme and decorative theme but don't necessarily match the chandelier exactly. This will create three levels of lighting in the space: chandelier alone, chandelier and sconces, or sconces alone.
Not only are wall sconces ideal for illuminating dark spaces in your home, but they are also particularly nice for generating ambiance or mood; this works well in the bedroom and dining room when a romantic vibe is the goal. Wall sconces are also great for adding just the right touch of lighting in the bedroom when watching a movie or reading a book. Add a wall sconce in your laundry room to add a bit more interest to the boring space, or even position on in your dark hallway to make it more warm and cozy.
Wall scones are a great way to spice add light to any room in the home. Use them for a variety of purposes, functional or decorative. No matter your lighting need, a couple of wall sconces will likely do the job. As with any home project, especially one involving electricity, be sure to read the installation instructions and if you in need of assistance find a work partner or hire an electrician.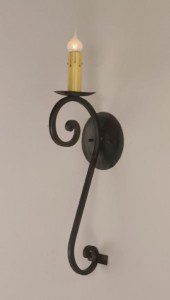 Content Provided By: Julia Ritzenthaler