How High Should A Wall Mount Faucet Be From The Sink?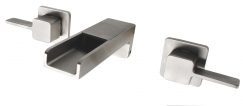 With the increasing popularity of vessel sinks, wall mount faucets have been showing up in more and more bathroom remodels. As an alternative to the single hole, more common vessel sink faucet, wall mount faucets are not mounted on the wall behind the sink. Though they can be used for undermount sinks, they rarely are because the distance between the spout and the bottom of the sink is too great.
So, when considering a vessel sink with a wall mount faucet, it's important to plan the placement of the faucet so that you avoid the "splash factor" that commonly occurs with vessel sinks. So, to help with this, we asked our resident Contractor about the standard height it should be above the sink. He says that the faucet should mounted 4″-6″ from the bottom of the spout to the bottom of the sink.
Content provided by: Randy Ritzenthaler