Shop Soci Inc Vanities and Sinks with Free Shipping!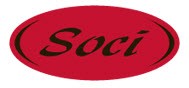 Soci has been the recipient of multiple awards over the past few years as an up-and-coming company in the North Texas area. The goal of Soci is to deliver beautiful, functional home decor for the bathroom area. They strive to provide the best products at affordable and competitive prices and adopt a stellar customer service model that has made them so successful in the past few years.
At UniqueVanities.com, we are proud to partner with Soci to bring you some gorgeous bathroom vanity designs and components. Soci's line ranges from modern to traditional and offers a variety of choices for just about any bathroom out there.
However, if you are having trouble spotting a selection on our site that you think would be perfect for your room, feel free to call our client service line at 866-526-1843 for assistance. Our trained customer service representatives are read to provide individual attention and answer all your questions. They can help with style and size concerns, information about the products, choices regarding counter top or fixtures options and much more.
At UniqueVanities.com, our goal is to provide you with the best possible online shopping experience. In addition to our superior client service teams, we also spend a great deal of time ensuring the quality of our selection process. You can be sure that when you order with us, you will receive a quality, beautiful product for your bathroom.