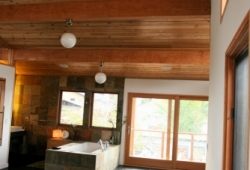 Posted on June 25, 2013 by All Things Bathroom Expert in Current Trends

When you see the hammock bathtub created by Splinter Works you will immediately want one for your own bathroom. The style is very sleek and would look great in any space. The long shape and contoured middle is made for relaxing. Hung from the walls and not touching the floor, this amazing tub looks as [...]

Read More... No Comments. Continue Reading...