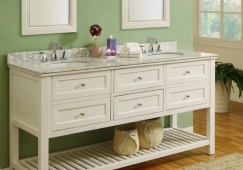 Posted on July 1, 2013 by All Things Bathroom Expert in Bathroom Remodeling Information

David Bakke writes about money management, home improvement, and smart shopping on the blog, Money Crashers. There's nothing quite like giving that aging bathroom a facelift. A new tub, fresh and fun tiling, and a few luxurious amenities like heated toilet seats and towel racks can go a long way toward breathing life into your [...]

Read More... No Comments. Continue Reading...