KBIS Bathroom Trend Watch # 2
Posted on May 9, 2012 by All Things Bathroom Expert in Current Trends

Here we are at the second stop in our trend watch series from this year's KBIS. Since we're sure you've been waiting with bated breath, we'll get right to it. The next favorite style that we spotted at the show was the re-emergence of modern day glam, but this time, suitable for both sexes. Sleek lines and styles adorned new styles from Luxe Bathworks, including a vanity sporting funky silver nail tops lining it's edges.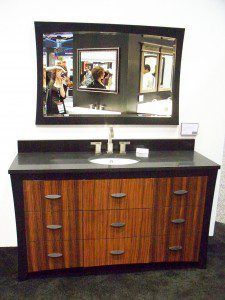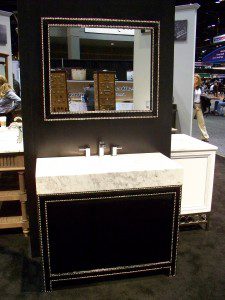 Bellaterra Home truly shined, again, with this vanity piece that provides an unexpected point of glam in a simple and elegant way. Check out the door pulls below–crystals that POP against the understated black background.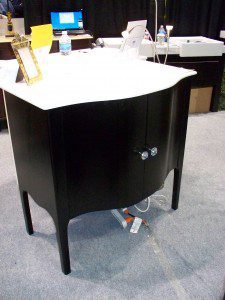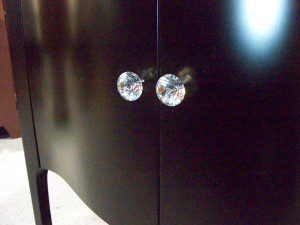 Finally, we were really pleased to see the funky, foiled, colored glass vessels with matching countertops that jumped out at us from Bionic Products of America. In a wide variety of colors–from the bright and unique to the classic and quiet available– these guys are definitely doing it right.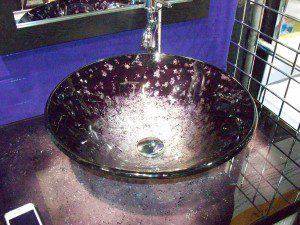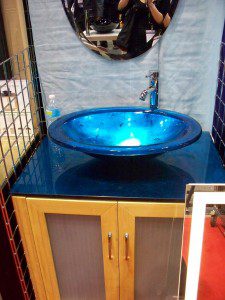 These modern additions certainly had us WOWed. We fully expect many homes to be switching to modern with these new products available! Still feeling traditional? Then the next Trend Watch post is for you. Stay tuned!
Written By: Hillary Hansen
GD Star Rating
loading...
GD Star Rating
loading...