Home Improvement Trends for 2012
Posted on April 14, 2012 by All Things Bathroom Expert in Current Trends

If one of your New Year's resolutions was to get your home in tip-top shape, here are a few home improvements you may want to consider.

1. Eco-Friendly Upgrades
This trend continues to gain steam and is here to stay. Fortunately, it is becoming easier to make eco-friendly home improvements to your home thanks to more detailed consumer information, and the availability of new green products. Homeowners who want to be environmentally conscious can do so from the inside out. Whether you are after a solar conversion, energy efficient appliances, sustainable or recycled flooring and countertops or a more eco-friendly landscape, if you can dream it, you can do it!

2. Bye-Bye Carpet
With a shift towards sustainable, non-toxic, and allergen-free flooring, there is also a trend afoot to get rid of wall-to-wall carpeting. It's no secret that wood, tile, cork, and bamboo floors are a cinch to keep clean. Today there is also a growing awareness of the toxic emissions produced by synthetic carpeting that is not present in its new counterparts. If you cannot imagine a home without the coziness of old school carpeting, don't worry-there are alternatives made from corn sugar, bamboo, and jute, along with reclaimed denim, wool, and cotton.

3. Less is More
As the population of America ages; we are leaning towards smaller living spaces. In addition to saving on energy, smaller homes are also easier to maintain. Many homeowners with larger places are modifying their open-floor plans to create extra rooms and more intimate nooks and crannies. Adding bedrooms, playrooms, nurseries, and media rooms is also a response to the economic downturn as more extended families are living under one roof.

4. Larger Safer Bathrooms
It's tough to determine exactly if this home improvement trend is driven by an aging population or a nod to our obsession with all things hi-tech. At any rate, our bathrooms are becoming larger and more accessible. In 2012, energy efficient fixtures, water saving toilets, and larger tubs and showers are placing the focus on comfort, convenience, and safety. Expect to see lots of innovative slip proof flooring, digital shower controls for adjusting the temperature, water pressure, and steam, along with a multitude of means for getting most from your smart phone or I-pod, in addition to the multitude of new bath vanity cabinets that are being produced each month.

5. Outside Living Space
From outdoor kitchens, to lanais, living rooms, and fire pits, it seems that we just want to be outside. This trend is gaining steam, so expect to see even more creative ways to enjoy the great outdoors. In addition to the ever-popular outdoor kitchen, swimming pools are the new media rooms! Prepare to see pop-up flat screens poolside where you can practice your flutter kicks while taking in the latest chick-flick or action thriller!

About The Author:
Lisa Andree writes for the popular home financing blog, Mortgage-Rate-Review, covering trends in the mortgage refinance and real estate markets.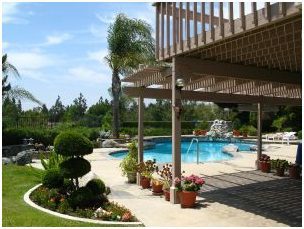 GD Star Rating
loading...
GD Star Rating
loading...