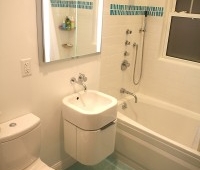 Posted on October 18, 2013 by All Things Bathroom Expert in Bathroom Essentials

People tend to opt out for white linens and neutral walls in bathrooms to emulate a sense of cleanliness and calmness in the space.  Whites and neutrals can, over time, become boring though.  Adding color to a plain bathroom can be refreshing.  There are ways to do this in a bathroom without having to do [...]

Read More... No Comments. Continue Reading...