When it comes to customizing your bathroom, nothing quite compares to changing your countertop. The right bathroom countertop can lend elegance, tie in with an existing theme, bring the beauty of nature indoors and much more. In fact, it's the single most important fixture in your bathroom. As such, it's important to know more about your options when it comes to countertop construction material.
Bathroom Countertop Materials – Drilling Down into Your Options
You have far more options than you might realize here. If you think you're limited to tile and laminate, you might be surprised at just what else is out there. Of course, you also need to make an informed choice based on more than just aesthetics. Cost per square foot, durability, maintenance and other issues need to be weighed in your decision. Below, you'll find a discussion outlining your options, as well as their benefits and drawbacks.
Granite
Granite is a hard, resilient, durable stone with plenty of density. It's more commonly found in areas where that hardness is needed, such as in the kitchen, but it can serve just as well as one of the stronger bathroom countertop materials. Granite resists chipping and cracking, although natural flaws hidden within the stone can cause problems. It's also stain resistant as long as you seal it properly and then continue to reseal it every year. It's available in a wide range of colors and patterns, and can include prominent quartz flakes as well. In terms of cost, you'll find it varies from $75 per foot to over $200. However, costs for granite are falling and you'll find more affordable options available if you hunt for them.
Marble
Marble is generally used where you need elegance and beauty, but not necessarily lots of strength. It's weaker than granite, as it's a sedimentary rock, but its unique marbling makes it the perfect addition for areas that won't see the abuse and stress found in the kitchen. Marble bathroom countertops can hold up for decades. However, like granite, they need to be sealed to prevent stains and bacteria from soaking into the porous stone. Marble is also easily etched by harsh cleansers, as well as by red wine. With true marble countertops, you'll be able to resurface if etching is severe, but that's not true with cultured marble. In terms of cost, marble is one of the more expensive options, ranging from $120 to $250 per square foot installed.
Quartz
If you're looking for outstanding resistance to chipping, scratching, breaking and staining, then quartz might be the choice for you. Quartz is a natural stone, but a quartz bathroom countertop is not 100% natural. In order to create a countertop from this material, the manufacturer mixes 93% quartz with 7% binding agents to create a solid surface.
The good news here is that quartz countertops are impervious to stains, and they do not require sealing over time. You'll also find that there are no natural flaws to crop up down the years (it's engineered stone, and all flaws are eliminated in the engineering process). The cost for quartz countertops varies considerably depending on the manufacturer you choose, and can range from $110 to $250 per square foot installed.
Travertine
Travertine is usually not used in kitchen countertops because of its softness. It scratches more easily than marble. However, that doesn't mean it's not one of the better bathroom countertop materials available. Travertine's warm earth tones make it a favorite for those seeking a relaxed atmosphere in their bathroom, and it's unlikely that you'll damage the counter in normal bathroom use.
Like granite and marble, travertine must be sealed every year, and it is porous, so not sealing the counter or doing it improperly will allow stains and bacteria to seep deep down into the stone. Also, like marble, travertine is easily scratched, even with a sealer in place. In terms of cost, travertine is pretty affordable compared to quartz or marble, with high-end sources running you approximately $50 per square foot.
Solid Surface
Solid surface bathroom countertops might look a bit like laminate, but they're actually very different. You'll find these counters made from a combination of different materials, including polyester and acrylic. The "solid" part of the name denotes the fact that the material is not porous, which means you have no worries about stains or bacteria. There's almost no maintenance needed to keep your counters safe and looking great, and no need to reseal your countertop year after year.
There are more pattern and color options than you might know what to do with, but you will find that the material is not particularly heat resistant (not that you'll be using pots and pans in your bathroom, but your curling iron or hairdryer might pose a problem). It's also easy to scratch. Scratches can be removed by resurfacing, since the coloration goes all the way through the countertop. It's also installed seamlessly, which means you never need to worry about dirt or grime getting caught in the cracks. For costs, you can expect to pay anywhere from $35 to $100 per square foot.
Soapstone
The new trendy alternative. Soapstone is the new trendy stone among the stylish set. Like granite, Soapstone is a very dense stone that is extremely nonporous and waterproof. Like granite, soapstone is excellent for bathroom installations because it is anti-bacterial. Soapstone has been used for hundreds of years in laboratories because of its ability to withstand heat, staining and because it has anti-bacterial properties. Like, granite it is easy to clean. Unlike granite is does not require a chemical sealant but rather uses a mineral oil sealant to keep the surface looking attractive. Unlike the granite sealer, which is applied once every two years, the mineral oil must be applied regularly to keep the luster of the soapstone. When not oiled, the stone will turn a dull grey color. The difference is similar to wet vs. dry rocks at the beach.
Stylistically, soapstone has a completely different look than granite so try to see an entire counter before choosing this stone. The soapstone finish is duller and more utilitarian in feel than granite. The color of the stone will also naturally darken over time. In addition, the colors and patterns available are more limited than granite and installation can be more expensive because the slabs are smaller and more joints are usually required. Moreover, contractors who haven't worked with the stone will be reluctant to take it on because it is much softer than granite and it has a reputation for chipping easily. Lastly, there are fewer soapstone tiles available for DIY installation.
Composites
Composites include something called "cultured marble" which is really marble dust mixed with a plastic polymer. Cultured marble and other composites are usually cheaper than natural stones. In addition, there are several lines of composites that are made from 80-90% recycled materials. Composites are cost efficient; they last well and they don't need to be sealed. They are also lighter than natural stones if weight is a consideration. Composites come in a variety of colors. Many of them will also mix and play nicely with natural materials. The downside of composites is that no matter how wonderful they are, they never look exactly like real stone.
Wood
Wood has been used as a countertop material for as long as counters have been around. However, it's not used as frequently as other bathroom countertop materials. It's much more common to see a wood countertop in the kitchen (think butchers block). Wood has a number of benefits to offer. It's warm and natural, and any scratches can be sanded down. It also develops real character over the years. However, it's not without its drawbacks.
Wood must be completely sealed against moisture or it will swell and distort. In serious cases, this can lead to massive problems in the bathroom. That means you'll definitely need to reseal it annually, or even more frequently. Wood can also be home to bacteria, mold and other threats that thrive in moist environments. You might be surprised at the cost of wood countertops as well – $35 to $70 per square foot. Think long and hard before you opt for wood in your bathroom. There are more appropriate materials available.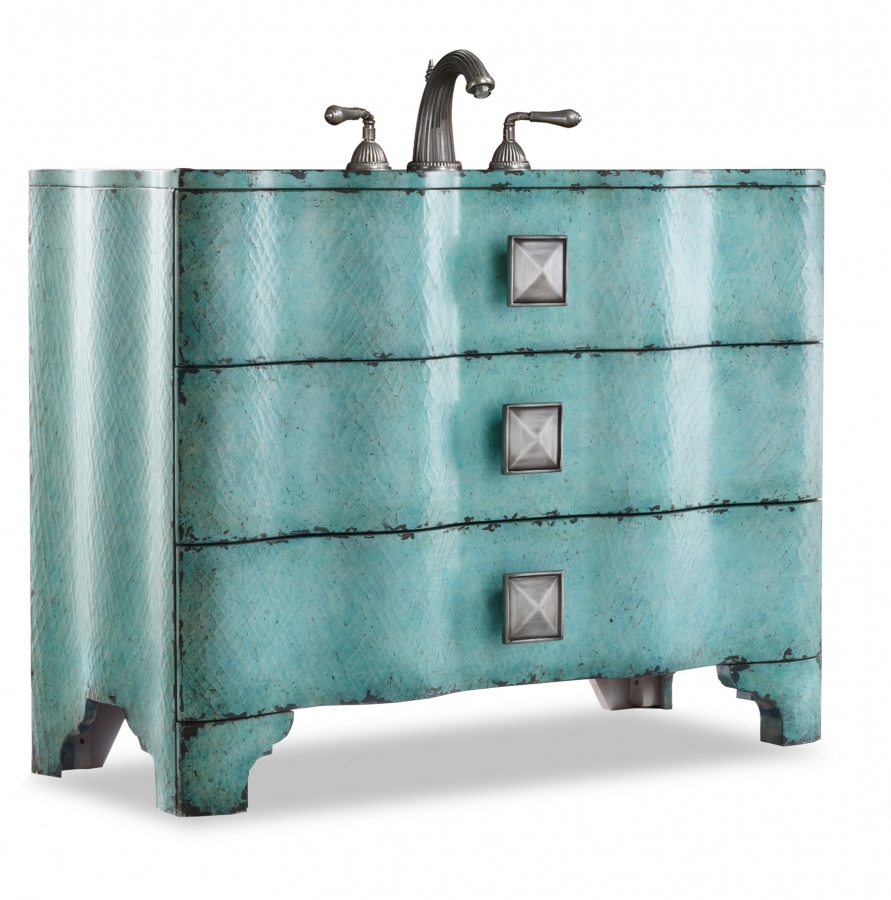 Tile
Tile is one of those bathroom countertop materials that never really go out of style. It's affordable, customizable, and available in pretty much any color you might want. Both ceramic and porcelain tile can make good solutions for your bathroom countertop, and you'll discover quite a wide range of styles and sizes. Combine colors, sizes and designs to create a unique look and feel for your bathroom. While tile generally doesn't offer the same luxury feel as natural stone, it is a durable, affordable option for those who want something just a little different in their bathrooms.
There are a few problems you'll encounter with tile bathroom countertops, though. Grout needs to be cleaned regularly, and even then, it can build up grime and bacteria. If there's too much moisture, it can actually leak under the tiles and cause mold and mildew growth. You'll find tile available at an incredibly broad range of price points, from $10 to $80 per square foot.
Tempered Glass
Tempered glass might not be your first thought when it comes to bathroom countertop materials, but it's an increasingly popular choice. It's strong, it can be colored in virtually any shade of the rainbow (or left clear if you prefer), and it's easily molded to fit your needs. Tempered glass bathroom countertops often include a formed-in sink (the counter and sink are a single large piece of glass). It can even be textured if you prefer.
Glass is impervious to staining and bacteria, and tempered glass is highly scratch resistant. Cleaning it requires little more than a good glass cleaner and your preferred spray. That means you don't have to worry about resealing your counter year after year, and you don't have to worry about etching from cleansers or other spills. Costs can be as much as $50 per square foot, but they vary considerably depending on your needs and your source.
When to Consider a Bathroom Vanity Without a Countertop?
Before buying a new bathroom vanity foro your remodel project, you need to decide if you want to purchase one with or without the countertop. If you know what you want and it isn't the standard Baltic brown, black granite, white marble, etc, you may want to consider going without a top and having one made locally to your specifications. The biggest con on doing this is of course cost. It will cost significantly more to have one made here in the states. Most of our vanities are made in China and the cost of natural stone is a lot less than it is here. Watch this quick video below.
Are Glass Top Bathroom Vanities Durable?
Glass used for bathroom vanity countertops is usually ½" thick tempered glass meaning if it were to break it would shatter into a bunch of small pieces like a car windshield instead of large sharp pieces of glass that could be dangerous. Thick tempered glass is extremely hard to break. It is very similar to what you see in large aquariums at the zoo that hold in thousands of gallons of water or the windshield in an airplane.
Glass can be scratched but again not easily. You should never use anything abrasive to clean it such as a brillo pad or SOS; these harsh materials can scratch the surface. Glass is as durable as most other solid surface bath vanity countertop materials in which it will stand up to normal ware and tare for a long time.
Are People Using Concrete for Countertops?
One of our blog readers submitted this question to us recently and it made us look a little deeper into what is emerging as a very niche trend. The simple answer to that question is yes. Though the trend is just beginning to gain popularity and is used primarily in homes utilizing modern design, more and more people are investigating the pros and cons of using this material for a bathroom vanity or kitchen countertop. One resource we found on the subject was from the Vancouver Sun, in an article by Patrick Langston. In his article, Langston investigates some countertop options–concrete being one of them. We're sharing the pros and cons he listed to help you make a better decision as to if using concrete for your bathroom or kitchen remodel is a good idea!
Pros
You can form it into whatever shape you desire (for those who are going for a truly unique look)
You can choose from an array of colors to suit your bathrooms color scheme and design
Additionally, Langston mentions that concrete is actually considered a "green" option as much of it is made locally.
Cons
Hairline cracks can develop
Chips, scratches, and stains easily
Needs to be sealed multiple times during the course of a year
Before you begin remodeling your bathroom or even if you're only focusing on your bathroom vanity, make sure you take the time to layout the finished look you are going towards. Concrete may or may not be the best solution for you!
How Do I Install A Good-Looking Concrete Countertop?
One of the modern trends we see emerging in modern themed homes is the use of concrete countertops like in bathroom vanities in Los Angeles. Out of these trends, the use of a concrete countertop is one of the most inexpensive, easy to install options. But how do you do it? We asked our General Contractor for tips. He recommends looking for a special concrete mix that is lightweight and has a small aggregate in it to produce the smoothest result. Concrete is easily stained by adding dye to it while mixing or acid staining it after it has cured. This is especially nice as many people are looking for a unique color to match their existing décor. You can find these products at your local home improvement stores. To begin, you'll want to make a form like you would for any other concrete project and pour it in. You'll finish it like you would a garage floor, using a trowel to smooth the top. You'll want to let the form cure a bit, but not completely before you remove the side forms to finish the edges. If you remove the side forms too early, you may end up with concrete all over your floor!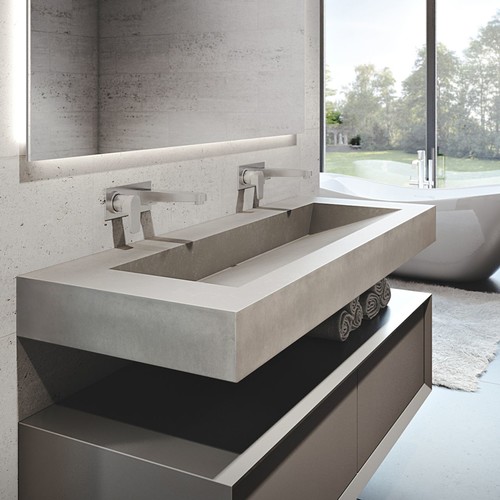 Bathroom Countertops: Granite versus Quartz versus Marble
You have a number of different countertop materials for use in your bathroom, far more than for any other area of the home. For instance, marble might not be the best choice for kitchen counters, but it makes a good option for use in the bathroom, particularly if you're looking for a serious boost to elegance. Of course, granite can also be used in your bathroom. Both are natural stone, and both provide outstanding durability. How do they stack up for the discerning homeowner? Where does quartz stand? Read on and learn more.
Side-by-Side Comparison
To really help you get the bigger picture, let's conduct a side-by-side comparison of several characteristics of the stone types.
Maintenance Costs
Quartz wins in the area of maintenance and maintenance costs. Most homeowners will incur no additional cleaning costs here. Both granite and marble countertops will come with ongoing maintenance costs. Both types of stone must be sealed to prevent them from absorbing stains. Granite is more stain resistant naturally than marble, but it will still absorb bacteria and liquids if not treated properly. However, marble is prone to etching so it's important to use gentle cleansers, which might not be as effective as what you're used to, increasing your costs over time.
Cleaning
When it comes to cleaning, quartz is a breeze. A light mist of cleaning spray and a soft cloth is all that's needed. Both granite and marble will require cleaning, but you'll likely have more cleaning to do with a marble counter because of the gentler cleansers needed. However, in a bathroom setting, there should be less cleaning necessary than in other applications around the home.
Radon Emissions
Radon is a natural radioactive gas found in the earth. Marble and Granite have been found to have very low levels of radon, and quartz likewise produces virtually none. All are safe for use in the home for those worried about radon emissions.
Cost to the Owner
Marble and granite have similar costs per linear foot, but marble is slightly more expensive than granite, and can cost anywhere from $75-200 per linear foot. The cost per foot varies greatly for both stone types, depending on where the stone is sourced from and the cost of shipping it. Quartz is a bit more expensive, coming in at $110 to $250 per linear foot. These materials aren't what you'd call a bargain. It's generally more cost effective to purchase bathroom vanities with tops, rather than have custom countertops installed.
Appearance
This is where most buyers make their decision, and it's pretty subjective. Both granite and quartz countertops offer plenty of beauty and style, both can be shaped to fit your needs, and both are available in a wide range of colors and color combinations. Quartz edges out granite in colors and patterns, thanks to the 130 different types available on the market and because it's manmade and can therefore be customized. That doesn't mean granite is without its benefits, though. Many homeowners prefer granite's look and the fact that it is a 100% natural material. Marble is unparalleled for formal elegance and beauty. Granite is a lovely stone, but marble can bring a true touch of class to any bathroom. With that being said, beauty is in the eye of the beholder, and you'll have to make your own decision based on which type appeals more to your sensibilities.
These three types of stone offer benefits, but you'll need to decide on your own which is right for your installation.
Making Your Decision
Choosing between the many bathroom countertop materials available can be difficult to do. They all have their own pros and cons, and most aren't as inexpensive as you might have thought. However, following a few simple tips will help ensure that you're able to arrive at a decision that works for your bathroom, as well as for your budget.
Consider Your Budget
Before you do anything else, you need to know how much you can afford to spend on the countertop. Take measurements for the new countertop, and then get a rough estimate of costs for the various materials that appeal to you. Determine what your budget is for the project as well. Are you just replacing the countertop? If so, you can likely afford to spend a bit more on the counter. Are you remodeling the entire bathroom? In that case, you'll need to balance your wants against the cost of the entire project.
Compare Cost of Ownership
With most bathroom countertop materials, you have two costs. There's the cost you'll pay in the beginning, and then you'll also have the cost of ownership over time. For many different materials, you'll have to worry about annual resealing, cleaning and disinfecting (particularly if you opt for wood). Those costs add up. Make sure that you can afford them, and that you're willing to go through that process every year (or more frequently if necessary).
Consider Your Options
Carefully consider each of the available bathroom countertop materials. Just because you're leaning towards installing marble doesn't mean that you shouldn't consider travertine or even tile. Give each option its due, and make sure you compare your options with an open mind. You might just find that going with a less expensive option isn't "settling", but really giving you exactly what you want for less cost.
Consider the Payoff Later
Even if you're renovating your bathroom for purely personal reasons, you'll have a payoff in the end. Bathroom upgrades increase the value of your home when you decide it's time to sell. However, not all countertop materials carry the same benefits to homebuyers. Do a comparison of the return you'll get when you sell versus the upfront investment you're going to make right now. If the payoff isn't enough to justify what you want, you'll need to proceed carefully. There's absolutely nothing wrong with upgrading your bathroom for personal reasons. Just make sure you're going into the process informed.
Investigate Other Options
The bathroom countertop materials listed above are certainly not your only choices. You'll find plenty of others out there, including laminate (the most affordable, but least durable choice on the market), as well as stainless steel, soapstone and even concrete (another super-affordable option, but one that can last for decades, and can actually be immensely beautiful with the right stamping and coloring processes). Investigate all of your options. Make an informed decision based on an in-depth comparison and an analysis of your immediate needs as well as your future goals.
Going It Alone or Hiring a Pro
You should also know whether you intend to install the countertop on your own or hire a pro to do it for you. DIY is the cheaper of the two routes (at least on the surface), but you'll get real, measurable benefits by hiring a contractor to do the installation for you. Often, the time saved and stress avoided by hiring a professional outweighs the financial costs.
In the end, the choice between available bathroom countertop materials largely comes down to personal preference. You might love the granular nature of granite, or you might be swept away by the elegance of marble, the earthy goodness of travertine, or the affordability and customization of tile. Be open-minded and know your goals, then go with your gut.
How to Measure for a New Bathroom Countertop?
Transforming your bathroom lets you do a number of things, including tying it into the theme of the rest of your home, increasing elegance and enjoyment, and installing upgraded fixtures and materials. Perhaps the most frequently replaced fixture in the bathroom is the countertop. You'll find a wide range of materials on offer here, from natural stone like granite and marble to tile, porcelain and many others.
Whether you intend to go the DIY route or have your counter professionally installed, you'll need to know how to measure for a new bathroom countertop. It's important for many things, including getting an accurate cost estimate. If you've never measured for a new bathroom countertop, there are a few things you should know before you get started.
Decide on Your Goals
The first thing you need to do is determine a few basic goals, as these will impact the measuring process. Will you be installing a countertop the same size as your existing one? If you'll be reusing your existing vanity cabinet and/or you only have the existing amount of room to work with, you'll need to use the same basic measurements. However, if you'll be extending your countertop, you'll need to know by how much and then figure that into your measurements.
Things You'll Need
Before you start the process, you need to gather a few essential items. Make sure you have:
A measuring tape
A ruler
A level
Pencil
Paper
Taking Your Measurements
Whether you're opting for a new counter of granite, marble, tile or something else, you'll need the same basic measurements. Follow the steps below:
Find the Centerline – The first thing you need to do is measure your existing countertop and find the centerline of the sink. Your new counter will have to accommodate the existing plumbing unless you plan to move the sink, in which case you'll need to modify the plumbing as well. All bathroom sinks require 10 inches of space on either side as well.
Measure the Back – You'll now need to measure the length of the countertop from the back. Start at the left edge and measure to the right. Add in any additional length you want for the new bathroom countertop (measure from the outside edge of the existing counter to the exact point where you want the new counter to end).
Measure the width of the counter – Start from the back of an open end so your measurements aren't thrown askew by the backsplash. Measure from the back of the wall to the front edge or to where you want the new front edge to be if you'll be installing a wider countertop than what you already have.
Account for Variances – You'll need to account for several additional elements in your measurements. For instance, you'll need to know the dimensions of the backsplash (depth and height at least, the length should be identical to your counter's length, unless you intend to install a backsplash only behind the sink itself). You'll also need to account for the front overhang (usually one inch).
Get the Square Footage – The next step in measuring for a new bathroom countertop is to get the square footage of the counter. To do this, all you need to do is multiply the length times the width and then convert inches to feet. For instance, if your counter will be 96 inches by 24 inches, you would follow this: 96 x 24 = 2304 / 12 = 192. You could then estimate the cost of each countertop material for your application (192 square feet).
Notes on Measuring for a New Bathroom Countertop
When you measure for a new bathroom countertop, don't neglect the little things. One of the most frequently overlooked is the faucet center. If you'll be going back with an identical faucet arrangement, use your existing dimensions. To determine what you have, you'll need to measure from the center of the left-hand hole to the center of the right-hand hole. This number will determine what size faucet you purchase (the length is called the "faucet center", and the standard is four inches).
You should also understand that your costs will vary depending on the edge type you want for your countertop. You can choose from a variety of different styles, including bullnose, ogee and beveled. Custom edge styles are also available if you're ordering granite, marble or another type of stone countertop (custom countertop creation lets you get creative with the edge design to better match your desired style).
In the end, measuring for a new bathroom countertop is not that difficult. With a little patience, you can get the numbers you need to start shopping around for a new counter and get rough estimates of the costs involved.
Should the Bathroom Countertop be Bigger than the Bathroom Vanity?
This is a question we get often, and the answer is simple: Yes the countertop usually overhangs the bathroom cabinet by 1" to 1-1/2" on the front and the sides and is flush with the back or up against the wall.
Where to Buy Bathroom Countertops
The best place to start is at your local marble or granite fabricator. Depending on your needs, big or small, they may have remnants marked down enough to get the job done. Starting locally will give you a good idea on costs involved in having something made to suite your needs. You can also try pricing online. Some companies may offer custom made options and able to get better deals, though keep in mind shipping charges.
How to Remove a Bathroom Countertop
How Do We Secure the Sink and Countertop to the Bathroom Vanity?
The best way to secure a countertop to a bathroom cabinet or vanity is set it on the cabinet first to make sure everything looks and fits right. If so then use some pieces of blue masking tape to mark the top and bath vanity so you can put the top back in the same place. Then remove the top and use Silicone or construction adhesive like liquid nails or PL to secure it in place. Use it sparingly because it doesn't take much to hold a top in place. Place the top back on and press it down making sure to line the tape marks up where they were on the dry fit. The silicone or adhesive will take about 24 hrs. to fully dry. Laminate tops can be done the same way except using a construction adhesive. On a wood or laminate top it is possible to use screws from the bottom but make sure to use screws that won't come through the top.
Sealing Natural Stone Countertops in the Bathroom
Sealing is extremely important with porous natural stone. Protected stone will be easier to clean and less likely to stain. Sealing is an investment wisely made to prolong the life of your countertops if the type of stone you have requires sealing. Granite is a natural substance, meaning it is created by nature and no two pieces are the same. This also means that no two pieces have the same absorbent qualities – in other words, not all pieces of stone even accept a sealant. Be sure to ask your manufacturer about the care required for the material you are considering to purchase. If you chose an extremely absorbent material, then you have a candidate for sealing. If your stone is one that will not accept sealing, then the good news is that it's highly unlikely to accept a stain. Simple!
If you're not sure of the company that made your counters, or if you've inherited them from a previous owner, try this sealer test: Apply a nickel sized drop of water to the surface of your counter and let stand for at least 15 minutes. Place a glass over the top of the water to prevent evaporation, and observe. If your counter does not darken, then your counter is safe from water-based staining. Testing for oil-based stains is truly more difficult, since you wouldn't want to deliberately stain your counters for the sake of testing. It may best to get a professional evaluation.
Not to worry if you've been diagnosed with a stone requiring sealing! It's not hard to do, and is not a risk to your countertops in any way. Choose a sealer from your local hardware store or the shop you purchased your counters from. Use a water-based sealer for resealing a previously sealed counter, or a solvent based sealer for the very first sealing the counter has experienced. You should always read the instructions on the bottle, and use the proper safety equipment – but in summary, you spread it on top of the stone, let it soak in for the recommended time, wipe away the excess and buff clean. Now you'll have beautiful shiny countertops for years to come!
How Often Should I Seal A Natural Stone Countertop?
This answer all depends on how much use the counter top gets. The best time frame to reseal natural stone countertops is every six months. If your countertop is used on a regular basis, you'll want to seal it more often. Strong stone like granite can go a year without sealant but to keep it looking it's best, you'll want to do this every six months as well. Natural stones like travertine and marble will need care quarterly. Make a habit of wiping down your countertop; use a soft cloth for regular cleaning. Easy process, just needs some TLC.
---
My name is Julia Ritzenthaler, Founder and President of Unique Vanities, started in 2005. I started this business as an extension of our residential remodeling business, which focused on the design and build of custom cabinetry and architectural trim. I also worked as a financial advisor for 10 years at Ameriprise Financial, helping clients make sound money decisions, including budgeting for home improvement expenses. This expertise led me to start Unique Vanities, which offers a handpicked selection of high quality bathroom vanities, sinks, mirrors and more. You can find me most days sitting in Starbucks, my second office, or in my car driving my daughter across Dallas to gymnastics training.
---
More Great Bathroom Countertop Resources
How Much Do Bathroom Countertops Cost?