Plan Ahead For Your Bathroom Layout
Posted on June 18, 2012 by All Things Bathroom Expert in Organization Tips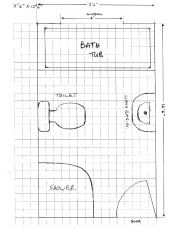 You don't have to be an architect to come up a new design for your bathroom, and you don't have even need to be a plumber. In fact, you can come up with your very own bathroom design all by yourself. All you need to start the task is some graph paper. You can use those graph sheets to create a detailed floor plan, scaled to the actual size of your bathroom. Create an outline, mark all the immovable fixtures, then start adding in the features that can personalize your bathroom to your own tastes.
Read the full article and find printable graph paper here!
Bathroom Layouts Made Easy
GD Star Rating
loading...
GD Star Rating
loading...