Bad Bathroom Colors
Posted on August 17, 2012 by All Things Bathroom Expert in Bathroom Essentials, Organization Tips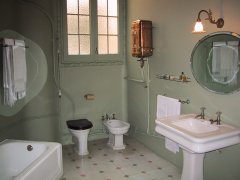 According to the blog at BestBathrooms.com, here are the three bathroom colors to avoid: pink, bright yellow and black. A smartly designed bathroom can make a difference when inviting guests into your home. Color can alter a person's mood. The right color can make the difference between a calmer mind and grim expression. You also must consider how your colors will reflect off your mirror such as bright yellow or black. What do you think? What are your best and worst bathroom favorite colors?
Read the full article here:
Three Bathroom Colours to Best Avoid
GD Star Rating
loading...
GD Star Rating
loading...