Vanity Solutions: Space Savers For Small Bathrooms and Narrow Depths
Are you in the process of remodeling a small bathroom and need a vanity that's not going to:
A.) Take up so much room you have to suck it in to squeeze around it, just to get to the toilet?
B.) Exist as just a sink, so you have toilet paper/tissues/other accessories stacked on the top of your toilet?
C.) Look like the same white porcelain pedestal sink that a million other Americans have?
We have the solution. Actually, we have several. We've made sure our product selection is diverse so each and every homeowner with any sized bathroom could find something they love here. So, today we've decided to highlight a few of our small single bathroom vanities that could be the perfect fit for your bathroom remodel!
Our first choice is for the super small bathroom, powder bath, or basement bathroom.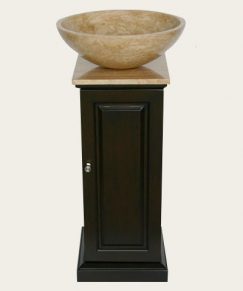 Measuring 12″ x 12″ it's the smallest bathroom vanity we carry. The travertine bowl which sits atop the standard Espresso cabinet lends a little modern touch to this traditional styled cabinet. And if you were worried about having absolutely no storage, well, surprisingly, you'll get a little with this option!
Are you looking for something a little more modern and willing to sacrifice the storage? Then our next option might be for you.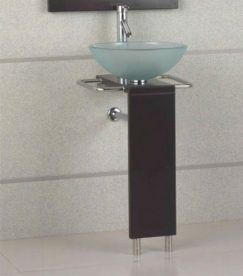 This modern vessel vanity with frosted glass vessel is the ultimate fit for a small yet sleek modern bath. 8″ wide by 21″ deep this is another choice for those needing space. Additionally, a matching mirror is available to mark one more "check" off your project list!
If your style taste is still unsatisfied and you're looking for something more old world traditional, don't worry. As we mentioned, we cater to every size AND style you might be looking for. Here are a couple of our small and truly traditional options.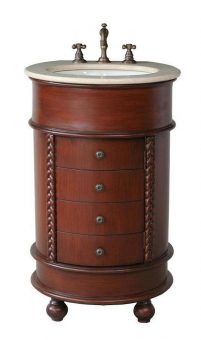 This option measures 22″ in diameter and 21″ wide. Still small enough for a average sized half bath, and with storage space to boot! The braided accents and antique brass hardware will surely lend themselves well to any traditional bathroom remodel.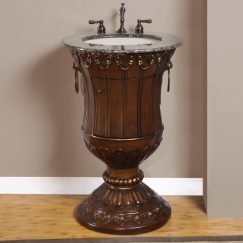 This 23 Inch cherry brown vanity with Baltic Brown Granite is more unique than most, and definitely something we'd consider "tres chic traditional."
The final problem we hear from our clients? "We can have width but no depth!" Since we've heard this from numerous clients, we thought we'd address that here too. Often times, we've found that the bib style sink is the best fit for these type of situations. The narrow depth vanity cabinet will allow the door to swing unrestricted, while the bib sink allows for you to wash your hands in a basin that's far bigger than you might have thought. Check out a couple of these styles below!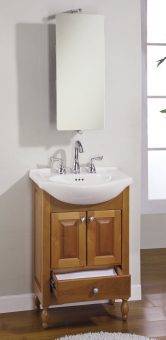 This option literally gives you options. The cabinet itself is only 11.75″ deep and the sink only extends 17″ at it's longest point.  Additionally, it's available in a three different finishes and two different sink styles, both available in two colors! On top of all that, try finding another narrow depth vanity with multiple storage options!
The next selection is a little more transitional–lending itself to a modern bathroom or a simple traditional style–your choice. It's measurements are identical and it's also available in two different finishes with two different top options.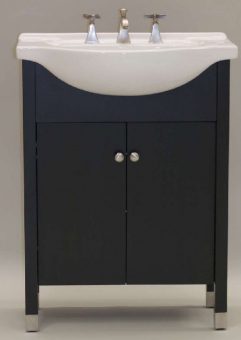 Still not finding the small bathroom vanity of your dreams? Call one of our trained product specialists at 866-526-1843 and let them know what measurements you're working with. We'll find some additional options for you, whether you buy from us or not!