Is It Cheaper To Install A Vanity Yourself?
Posted on February 14, 2012 by All Things Bathroom Expert in Buying Guides

One of the questions that we get asked all the time is should a homeowner install a purchased bathroom vanity themselves or should they hire a plumber to do the job. Our recommendation has always been: If you've got the know-how, do it! We caught an interesting article today in the Chicago Tribune website though, that spoke about just that. Gene and Katie Hamilton posed the question "Do It Yourself Or Not?" The math is definitely in our favor. When you purchase and install a bathroom vanity yourself, you are saving 21% versus if you were to hire a plumber to do the job for you. If you'd like to do a more thorough bathroom remodel then that 21% could be your new hardware or some other item you have yet to buy for the room!

Still, as always, we must advise that if you are not handy at "all things home," it might be better to let a professional handle the job. While it isn't the most difficult thing in the world to do, the cabinet and countertop often times need to be mounted securely to the wall and of course the plumbing needs to be hooked up. If you don't have the proper tools or the know how to do these things, then you could botch the job and end up paying twice as much to get it fixed and installed correctly!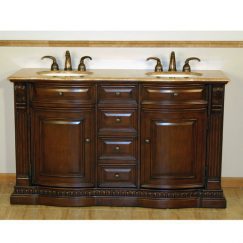 GD Star Rating
loading...
GD Star Rating
loading...