New Bathroom Floor: Linoleum or Ceramic?
Posted on April 7, 2011 by All Things Bathroom Expert in Ask the Contractor

Question: I'm re-doing my bathroom with a new shower, shower door, new bath vanity, new delta faucet's. Probably new toilet topper and medicine cabinet. Would you do the floor in linoleum or ceramic tile? I'm covering about 5×9 area. I know ceramic would look best, but I'm all about ease of cleaning too. The bathroom is off the bedroom and the male will be the primary user.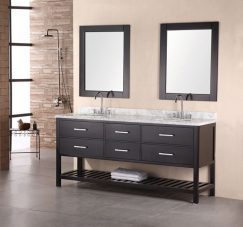 Answer: Ceramic tile is definitely the better choice.  You can use a tile that is an earth color like tan or light gray and use a grout that is close the same color.  Stay away from white or light colored grout to ease cleaning and maintenance.
GD Star Rating
loading...
GD Star Rating
loading...